Social Events
Welcome Excursion
Ukai (Cormorant Fishing) Watching Tour is scheduled on the 1st day at the Nagaragawa River.
Ukai -cormorant fishing on the pristine Nagara river - is one of the most summer sights of Gifu City. Ukai is a traditional night fishing method in which an usho (Cormorant Fishing Master) and u (cormorant birds) work together to fish by the flames of Kagari-bi (fishing fire lanterns) reflecting on the dark surface of the river, with Mt Kinka and lofty Gifu Castle on its summit providing a dramatic backdrop to the scene.
For further information about Ukai Cormorant Fishing, please refer to here.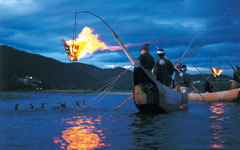 View
Boarding area to Ukai viewing boat
in a larger map
Banquet
Banquet Dinner is scheduled on the 2nd day at Gifu Miyako Hotel, which is located next to the conference venue.